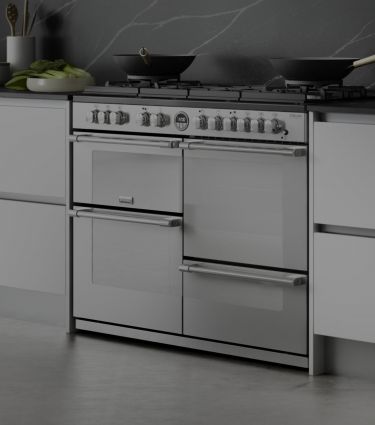 Electric Induction
Here at Belling we have pioneered the application of induction technology, including being the first to introduce it to freestanding cookers and even creating world's first built-in induction oven. We are proud to say we now offer induction on all of our freestanding and range cookers and built-in hobs. And, offering exceptional performance, efficiency, safety and accuracy of control, it's easy to understand why induction cooking has won so many fans.
But how does it work?
Simply put, induction is like having an individual heating element inside each pan. When a pan is placed on an induction hob, it completes a magnetic circuit below the hob's surface, this creates energy within the pan's base, which in turn heats the pan. As the heat is only heating the pan and not the zoned area no energy is wasted.
Difficult to handle tasks like melting chocolate directly in the pan and delicate sauces are made easy with outstanding low-heat performance.
One of the other many advantages of induction is speed, you can boil considerably faster than a ceramic hob and it is twice as fast as a gas hob.
Most pans with a metal ferrous base will work on induction, if a magnet connects to the base of your pan, it will work on an induction appliance.
And that's not all
Here are some of induction's most intelligent features:
Smarter
Intuitive technology means you can pause, recall your last temperature or even programme when your hob turns off, helping you to achieve perfect results.
Faster
It's nearly twice as fast as a gas hob and 30% faster than ceramic. You have the option of power boost which draws additional power when required – perfect for wok cooking.
Safer
The hob will not function unless a suitable pan is placed on the zone and if left unattended for a long period all cookzones will automatically turn off.
Greener
Induction cooking doesn't lose any heat through convection, so it's 30% more efficient than a gas hob and 25% more than a ceramic hob.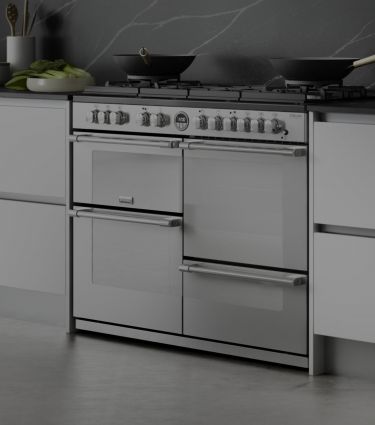 What pans do I need?
All pans with iron present in their base can be used on an induction hob. A simple test with a magnet will reveal the suitability of a pan. If the magnet sticks to the base of the pan then it is suitable for an induction appliance.
Freestanding
We were the first brand to apply induction to a freestanding product and now our range of freestanding cookers with induction hotplates is unrivalled. Whether you prefer chunky rotary controls, the responsiveness of touch control or desire the additional flexibility of multifunction, we have an induction product for you.
Built-in
Complement your built-in oven with stylish, flush fitting induction hob. Our induction hobs are available in 60, 80 and 90cm and a range of configurations, our hobs but all the benefits of induction quite literally at your fingertips. We've even developed a 13amp model which offers easy installation without the need for hardwiring.
Range
Whether you prefer the traditional styling of the Belling Classic, or the professional finish of the DB4, you have the option of choosing an induction hotplate. And, because we are clever like that, we've developed our entire Induction range cooker collection to operate on a 32 Amp circuit, enabling lower power consumption and making the transition from dual fuel to electric much easier for you.
Worth Considering
In summary, if you want to cook on a hob that's energy efficient, easy to clean and fast to heat - consider induction.

For more information on induction technology, watch the demo video below or visit one of our Elite retailers, who are always happy to share their detailed knowledge.