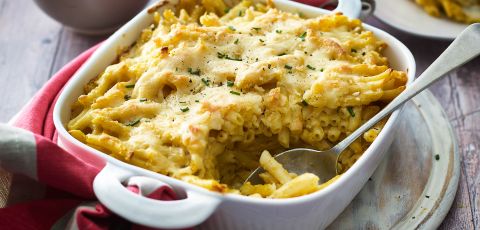 Mega Veg Mac 'N' Cheese
3 min read
This hidden-veg macaroni is an extra-special version of the Parr's family dinner in The Incredibles.
Preparation Time: 30 Minutes
Cooking Time: 15 Minutes
Serves: 6
Ingredients:
300g macaroni
100g broccoli florets
100g cauliflower florets
3 large carrots, halved lengthwise and thinned
2 celery sticks, sliced
1 tbsp butter
1 medium onion, chopped
¼ cup all-purpose flour
400ml milk
200ml vegetable stock
250g mature cheddar cheese
1 tbsp Dijon mustard
¼ tsp salt
¼ tsp pepper
¼ tsp paprika
Method:
Preheat oven to 180°C
In a large saucepan, cook macaroni according to package instructions, adding broccoli, cauliflower, carrots, and celery during the last 6 minutes of cooking. Once the veg is cooked, remove it from the macaroni and blend them in a food processor, and put them to one side to mix them through the finished cheese sauce. This is a great way of sneaking in some hidden vegetables!
Drain the macaroni and transfer to a greased 13x9 inch baking dish.
Meanwhile, in a large saucepan, heat butter over medium-high heat and sauté the onion until tender. Stir in the flour until blended into a paste. Gradually, stir in the milk and broth, and bring to a rolling boil. Cook and stir until thickened, about 2 minutes, and then remove from the heat and stir in cheese, mustard, salt and pepper, and your blended vegetables.
Add the sauce to the macaroni, stirring to coat. Sprinkle the dish with paprika and bake, uncovered, until heated through and the top is golden brown - about 15-20 minutes.