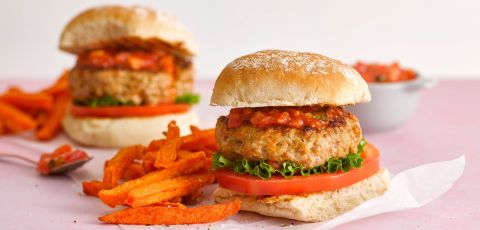 Healthy Turkey Burgers
2 min read
Taking inspiration from Iron Man, these turkey burgers offer a brilliant, healthy alternative to beef burgers. Serve in a sesame bun with homemade salsa - great when paired with crispy sweet potato fries
Preparation Time: 40 Minutes
Cooking Time: 15 Minutes
Serves: 4
Ingredients:
250g lean turkey mince
1 red onion, finely diced
1 tsp oregano
1 tsp paprika
1 egg, beaten
A handful of chopped coriander
1 tbsp white wine vinegar
Salt
Pepper
Method:
Preheat the oven to 180°C.
In a large bowl, add all of the burger ingredients and mix with your hands. Really work the mince until it becomes smooth and well-mixed. This is a great one to get the kids involved with!
Shape the mixture into burgers and place onto a greased baking tray. Cook for 15 minutes. The burgers will feel firm to touch when ready.
While the burgers are cooking, make the salsa. Finely dice all the ingredients and mix together in a bowl with the oil, vinegar, and seasoning.
Pop the burgers on a sesame bun and top with the salsa and some salad. Serve alongside sweet potato fries.