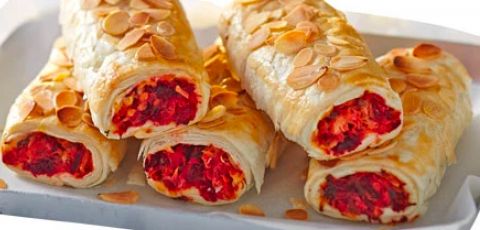 Vegetable & Cheese Rolls
3 min read
Get little hands to help grate the carrots and beetroot to mix with mature cheddar and fill these vegetarian pastry rolls. Perfect for the lunchbox!
Preparation Time: 25 Minutes
Cooking Time: 35 Minutes (+ Chilling)
Serves: 6
Ingredients:
1 tbsp olive or rapeseed oil
1 large onion, halved and grated
2 carrots, grated
1 beetroot, grated
100g mature cheddar, grated
Small bunch of thyme
50g flaked almonds
320g sheet puff pastry
1 egg, beaten
Method:
Heat the oil in a large pan. Add the onion and sizzle for 5 mins, stirring now and then, until softened. Add the carrot and beetroot, season well, and cook gently for 5-10 mins, stirring until the veg is soft. Tip into a bowl.

Stir the cheese and thyme leaves into the vegetable mixture while it's still warm. Roughly crumble half the almonds in your hands and add these to the bowl too. Chill the mixture for 30 mins or so until cool enough to handle.

Unroll the pastry. Cut in half lengthways, then pile the cooled filling down the middle of each strip of pastry. Brush the edges of the pastry with a little beaten egg, then fold the sides over to cover the filling. Turn the rolls over so the pastry seam is tucked underneath and cut each roll into 3, so you have 6. Place on a baking tray lined with baking parchment, brush with a little more egg, and sprinkle over the remaining almonds. Chill until ready to cook (or at least 15 mins). Heat oven to 200°C/180°C fan/gas 6.

Bake for 20 mins until golden brown. Serve the rolls warm or cold with salad or baked beans. Alternatively, pack in their lunch box!
Credit: Cassie Best