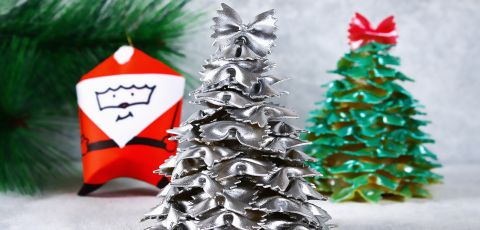 Sparkling Pasta Decoration Garlands
2 min read
Add a touch of sparkle to the Christmas decorations this year with these twinkling pasta garlands. The kids will love getting involved in this festive project!
Preparation Time: 20 Minutes
Ingredients:
Farfalle pasta
White craft glue
Paint brush
String
Glitter
Coloured paints
Method:
Cover your work surface in old newspaper or craft paper.
Using the paintbrush, cover pieces of pasta in different paint colours – we love red and green! Make sure each piece is well-coated all over.
Cover the pasta with glitter. Get creative and mix glitters and colours to make it even more magical.
Set the glittered bows aside until they have dried completely.
Tie your pasta shapes around the middle onto a long piece of string, making sure to secure each one with a double knot.
Repeat with all your pasta pieces, spacing them out evenly.
Hang up or place them on the tree for everyone to see!