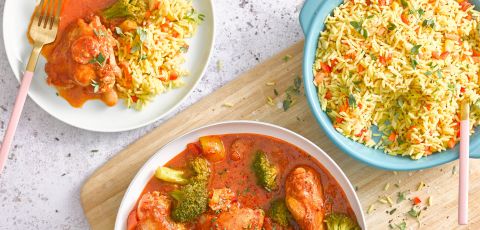 Smokey Chicken & Broccoli Casserole
2 min read
With smokey chorizo and a rich sauce, this casserole is packed full of flavour. Serve with rainbow rice, filled with as many vegetables as you like to make it as colourful as possible!
Preparation Time: 45 Minutes
Cooking Time: 30 Minutes
Serves: 4
Ingredients:
1 onion, chopped
1 garlic clove, finely chopped
1 tsp dried mixed herbs
1 tsp turmeric
100g chorizo, sliced into discs
4 chicken drumsticks or thighs
8 broccoli florets
2 red peppers, chopped
1 can of chopped tomatoes
1 chicken stock cube
50ml water
200g long grain rice
50g colourful vegetables (e.g. sweetcorn and pepper)
Salt
Pepper
Method:
In a large saucepan warm some oil and fry the onion until soft.
Add in the garlic, dried herbs, and chorizo. Keep cooking until the chorizo releases all of its oils.
Add in the chicken. Once slightly browned, add the peppers, chopped tomatoes, water, stock cube and salt and pepper. Leave to simmer for 20 minutes until the chicken is fully cooked through.
Add the broccoli to the pan for the final 10 minutes of cooking.
Meanwhile, cook the rice. Add a teaspoon of turmeric to give the rice a golden yellow colour.
Once cooked, drain and add in the colourful veggies. Stir well and serve with the casserole for a delicious supper.