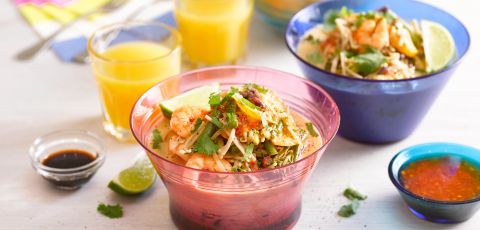 Prawn & Vegetable Coconut Noodles
2 min read
Delicious, healthy and perfect for a quick mid-week dinner, this Avengers-inspired recipe is a real winner. Use any noodles veg or meat you like to create your own version. Here we've used king prawns and soba noodles.
Preparation Time: 20 Minutes
Cooking Time: 15 Minutes
Serves: 4
Ingredients:
500g king prawns
2 tbsp sesame oil
1 pack soba noodles
Stir fry vegetables of your choice
A handful of coriander, chopped
2 tbsp sweet chilli sauce
A thumb of ginger, grated
2 garlic cloves, finely chopped
1 lime, juiced
1 tbsp crunchy peanut butter
½ can coconut milk
Method:
Pop a pan of water onto the boil for the noodles. Cook as per the packet instructions.
Run the noodles under cold water, then drain and set aside for later.
Prepare your sauce by mixing all of the ingredients together in a bowl.
In a wok or large frying pan, heat the sesame oil on high. Carefully add the vegetables and cook quickly to keep some crunch. Add in the prawns and sauce mixture, letting it come to a simmer.
Finally, add the cooked noodles into the mixture.
Serve straight away with a sprinkle of coriander and some extra lime juice if you like.