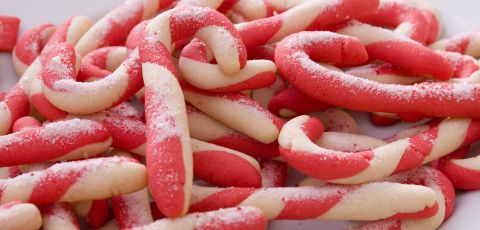 Homemade Candy Canes
2 min read
Make your Christmas tree look extra magical this year with homemade candy canes. These also make the perfect gift from the kids!
Preparation Time: 45 Minutes
Cooking Time: N/A
Serves: 20
Ingredients:
1 large egg white
400g icing sugar
1 tsp peppermint extract
1-2 tsp red gel food colouring
Method:
In a large mixing bowl, whisk the egg white until light and foamy.
Sift in the icing sugar and add the peppermint extract. Mix until it begins to clump together.
Using your hands, knead the mixture to form a smooth ball.
Divide the ball in half and add the red food gel to one of the halves. Knead that half until it turns evenly red (wear gloves to prevent staining your hands).
Roll each colour into 20 walnut-sized pieces. Keep them under a damp kitchen towel to prevent them from drying out.
Lightly dust the surface with icing sugar then roll each piece into a long, thin sausage-shape, about 5mm thick.
Twist a strip of each colour together until you get to the top, then roll together to bind and shape with a curve at one end.
Put the canes onto a lined baking tray dusted with icing sugar.
Leave to set in a warm, dry place overnight.