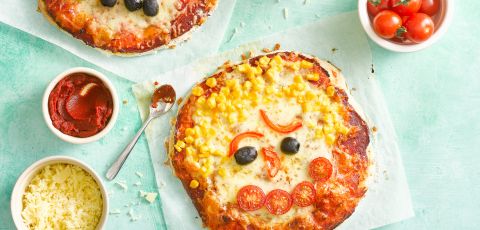 Healthy Homemade Pizzas
2 min read
Homemade pizzas are so easy to make and much tastier (not to mention healthier!) than a takeaway. Just like the Flash, you can add whatever toppings you fancy, and even get creative with the kids to make pizza faces!
Preparation Time: 1 Hour
Cooking Time: 20-30 Minutes
Serves: 6
Ingredients:
700g strong flour
7g sachet of yeast
20g soft butter
400ml warm water
Tomato passata
Cheddar, grated
Mozzarella, grated
Pinch of salt
Toppings of your choice
Method:
Preheat the oven to 200°C.
In a large bowl, add the flour, yeast, butter, warm water, and salt. Mix well to form a dough.
Knead the dough for 10 minutes (you can use a machine with a dough hook if you have one).
Pop the dough back into an oiled bowl and cover with a tea towel. Leave for 30 minutes to rise.
Once risen, place the dough on the worktop and knead a couple of times. Split into two even halves and shape into pizza bases.
Place the pizza bases onto greased baking trays.
Now the fun part! Spoon on the tomato passata or puree, sprinkle on the grated cheese and cover with your choice of toppings.
Pop them into the oven and cook for 20-30 minutes. The dough should be fluffy and crisp and the toppings should be cooked through.
Serve while hot or enjoy cold the next day!