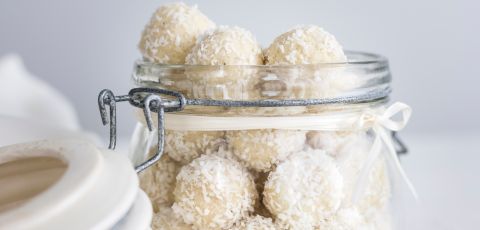 Gift Wrapped Chocolate Brownie Snowballs
3 min read
A great festive activity for the little ones – these fudgy brownie balls are the perfect sweet treat to be wrapped up and given to loved ones. Warning: there will be sticky hands in the making of this recipe!
Preparation Time: 10 Minutes
Cooking Time: 20 Minutes
Serves: 18
Ingredients:
115 dark cooking chocolate
130g butter
260g sugar
4 eggs
½ tsp salt
190g flour
36 mini marshmallows
395g white chocolate
210g shredded coconut
Method:
Preheat the oven to 180°C.
In a large mixing bowl, melt the dark chocolate and butter in the microwave in 30-second bursts. Stir until smooth.
Next, add the sugar and eggs then mix until well combined.
Add the salt and flour, stirring until there are no lumps.
Pour the brownie batter into a lightly greased 20x30cm baking tin, using a spatula to spread evenly.
Bake for 20 minutes until an inserted toothpick comes out clean. Set aside to cool.
Cut the brownies into 18 squares and cut off the edges.
Slightly flatten each brownie, place two mini marshmallows in the centre and then roll them into balls with the marshmallows inside.
Put the balls on a baking sheet and freeze for 30 minutes.
Melt the white chocolate then dip in each brownie ball, ensuring they're fully coated.
Immediately roll them in the shredded coconut then place them in the fridge until set.
To wrap, line the gift box with tissue paper, the more colourful the better. Arrange the snowballs evenly then decorate the box with heart tags, glitter, and stickers.
Store in a cool place until gifted.