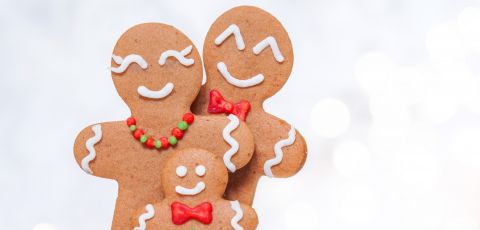 Create Your Own Gingerbread Family
3 min read
Get creative with the kids in the kitchen and try this easy gingerbread recipe. They'll love baking and decorating these biscuits to make a tasty homemade Christmas gift. Extra points if you can make your gingerbread family look like their real-life relatives!
Preparation Time: 45 Minutes
Cooking Time: 12 Minutes
Serves: 12
Ingredients:
40g unsalted butter, softened
25g caster sugar
30g golden syrup
1 egg yolk
125g plain flour, plus extra for dusting
¼ tsp bicarbonate of soda
½ tsp ground ginger
½ tsp ground cinnamon
Decorations, icing tubes, glitter gels, etc
Method:
Preheat the oven to 180°C and line a baking tray with parchment paper.
In a large mixing bowl, combine the butter and sugar until thick and creamy.
Next, add in the bicarbonate of soda, golden syrup, and egg yolks.
Sift in the flour, ginger, and cinnamon and bring the mixture into a dough using your hands.
Lightly flour your work surface and roll the dough out until it's around 0.5cm thick. Use the gingerbread cutter set to stamp out all the family members.
Place the biscuits on the baking tray and bake for 10-12 minutes.
Once cooked, place on a wire rack and allow to cool completely.
Decorate using icing, glitter gels, sprinkles (or anything else you can find!) to create faces, clothes, and hair.
Wrap up your gingerbread family and give them to loved ones for a thoughtful, homemade Christmas gift.