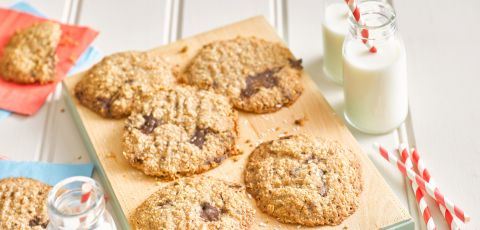 Chocolate, Coconut & Oatmeal Cookies
2 min read
These tasty Spider-Man inspired cookies are a great snack! Keep them in an airtight container for up to 3 days - if they last that long!
Preparation Time: 20 Minutes
Cooking Time: 10-12 Minutes
Serves: 15
Ingredients:
90g rolled oats
180g self-raising flour
40g dark brown sugar
35g desiccated coconut
60ml coconut oil
40g dark chocolate, chopped
1 tsp vanilla
Method:
Preheat the oven to 180°C.
In a large mixing bowl, add the oats, sugar, flour, and desiccated coconut. Mix through until fully combined.
Add in the coconut oil and mix well. If it's set solid, pop it in the microwave for 10 seconds before adding into the bowl.
Add in the vanilla and chocolate chunks. Mix to form a cookie dough.
On a greased and lined baking sheet, spoon out the mixture into even cookies. Make sure to leave a couple of inches between each one.
Bake in the oven for 10-12 minutes.
The cookies will be soft when they come out, so give them a minute to cool slightly on the tray before transferring onto a cooling rack.