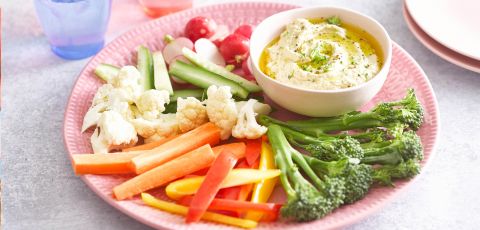 Broccoli Hummus with Crunchy Crudités
1 min read
Taking inspiration from Iron Man, this super healthy snack is ideal to keep the kids happy until dinner. Adding broccoli to hummus adds a great boost of Vitamin C. This will keep in the fridge for 5 days in a sealed container.
Preparation Time: 10 Minutes
Cooking Time: 5 Minutes
Serves: 4
Ingredients:
5 broccoli florets
1 can of chickpeas
1 garlic clove
2 tbsp sesame oil
2 tbsp rapeseed oil
½ lemon, juiced
Carrots
Tenderstem broccoli
Radishes
Peppers
Cauliflowers
Salt, to taste
Pepper, to taste
Method:
Bring a large saucepan of water to the boil and pop in the broccoli florets.
Cook for 3 minutes until just soft, then drain and run the broccoli under cold water so it stays crunchy and dark
Next, in a food processor, add the garlic, broccoli, chickpeas, oils, lemon juice, and salt and pepper, then blend until smooth.
Pop into a bowl and serve alongside the crudité sticks.